Big Bale W-8 Cattle Hay Feeder For Small Calves and Full Size Cattle
Contact Us for Delivered Price
The W-8 Cattle Hay Feeder is a large bale feeder that will accommodate your small calves as well as your full size cattle. Can be used as a square or round bale feeder. Whether you are feeding a group of feeder calves or the whole herd this feeder will handle it with maximum hay savings. The unique design on this cattle hay feeder is what makes it all possible, the bottom is narrow so the calves can reach the middle yet, the top basket is still large enough to hold BIG bales (square or round.) And believe me when I tell you that this is, ONE TOUGH CATTLE FEEDER. This feeder weighs over 100lbs. per foot!
This hay feeder comes fully assembled and ready to use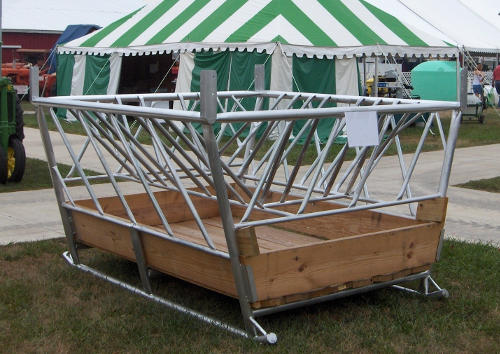 Contact Us!
Call 812-614-4364 or email us for delivered prices.
Note: We respond to all inquiries. Please check your spam folder for emails. Call 812-614-4364 with questions.