Below are a few letters we have received from our customers:
My horses are doing great with the H-10 and even my mother-in-law can load it while we're gone. It's perfect for my horses that don't gain weight on netted bales.
Shaina – Hastings, MN
---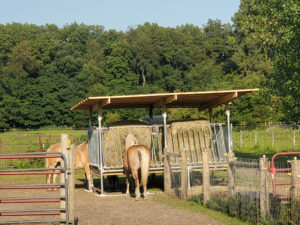 We love our round bale feeder, we slid it between the fence so they can eat on each side and the dominant horse can't chase the others off.
Cynthia W.
---
Thank you for shipping the round bale feeder. Klene Pipe did a great job at packaging and shipping. Assembly was very easy, and the instructions were very clear (I appreciated the additional comments to avoid problems).

I finished up the roof structure yesterday and loaded in a round bale. The horses are loving it and with the roof, the rainy weather we have in Oregon over the fall and winter will not be a concern!

I see another one in our near future, and I will make sure everyone knows where to get one!!

WE LOVE THIS FEEDER!!!!
THANK YOU AGAIN, Jerry – Springfield, OR
---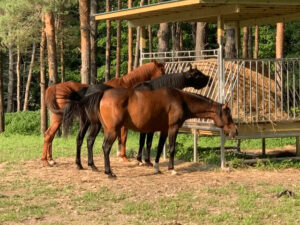 We were feeding a round bale about every 6 to 7 days with our old big bale rack. When we started using the Klene hay rack, the first bale lasted a month.

Today

we fed the second bale. I think it's going to pay for itself sooner rather than later!
Thanks for a great product! – Ward
---
I received my STVL-2882GF feeder yesterday. I was VERY impressed in the quality of the build. VERY nice welding, VERY nice, prime # 1 treated lumber. VERY heavy. I couldn't lift the corner of the feeder. Must be over 1,100 pounds. This bad boy WILL hold up for years. I couldn't believe the overall product. I really mean it. You guys truly build professional products with long lasting details in mind. Delivery was very prompt and the driver contacted me about 4 times. He was on time also as he said he would. My time is as important as yours. Thanks SO much. I've got your back.
Thanks again, Woody – Cedarland, GA
---
The draft horses names are Melody, Valerie, Annie and Modean. The feeder is everything you said it would be. Glad we made this purchase.
From Jim and Sandie Cargill
---
Fence Line Hay Feeder – I scanned the internet for MANY HOURS trying to find a fence line feeder that made sense for our small cow/calf operation.

My main requirements were:

The ability to load feeder from outside paddock or pasture to avoid winter ruts.
Straight line manure cleanup (fence line)
Reduction hay waste
Ability to cover feeding area to keep hay & feeding area dry.
Scalability (6, 12, 18ft, or more)

When I came across the image of the BK-12 outside your shop, I was immediately drawn to its main design features; hay saving trough, offset cattle feed openings so cattle don't pull hay out of feeder, sloped bale area to move hay towards feeding trough, etc.

I've only used the feeder for a few weeks, but I am confident of the hay saving features.

A good friend helped assemble the unit, which took the two of us roughly 90 minutes. This included, time spent unloading from the truck, organizing the different (well marked) parts, looking at the assembly manual & putting the unit together. My friend who is a farmer/welder/fabricator & mechanic was surprised at the high quality and close tolerances of the fabricated pieces. Both of us were more than a bit surprised that EVERY bolt flawlessly fit each attachment point without any extra effort.

The following day we clad the pipe structure with treated lumber & slick marine grade plywood. We noticed that there were more than enough welded tabs & attachment points to anchor our wood any way we desired.

The structure is designed with attachment points to add a roof structure to keep hay dry. We decided to build a larger covering over our unit, but got the idea of coving it from Klene.

Since I live roughly 60 miles from Klene, I decided to pick my order up a their facility. This allowed me to see firsthand the quality of some of the other structures. They are all "First Rate".

We have already been talking up our fence line feeder & showing it off to friends, so plan on hiring a few more fabricators to keep up with demand.

Excellent Product,
Colin Driscoll at Big Sky Farm
---
Klene Pipe Structures manufactured and delivered a fantastic horse feeder. Our draft horses are able to free feed and access hay at a rate we can control. It's easy to load, stays dry, limits waste and saves money. This is a great solution for round bale feeding. Thank you Kevin.
Dover, New Hampshire
Mounted Patrol Unit
---
"Great concept, quality materials, we are thrilled with the last feeder we will ever have to invest in! The hay stays off the ground, and with the larger roof, I can see them using this as summer shade also."
Teamdonk
Grangeville, ID