Klene Pipe's Portable Horse and Livestock Shade Structures provide ample shade for your horses or cattle. We offer a new complete portable shade kit or a DIY portable shade kit.
Complete Portable Horse Shade
Heavy Duty Galvanized Steel Shade Frame 10′ L, 10′ W, 9′ T
2 1/2″, 10 Gauge Tubing
Bolts Together In Minutes
Completely Portable Horse and Livestock Shade Shelter
Comes With 80% UV Block Shade Cloth
Triple Stitched Hems w/ Rust-Resistant Grommets
Set Of Tarp Ball Bungee Cords For Easy Attachment
Contact Us for Delivered Price
Contact Us!
Call 812-614-4364 or email us for delivered prices.
Note: We respond to all inquiries. Please check your spam folder for emails. Call 812-614-4364 with questions.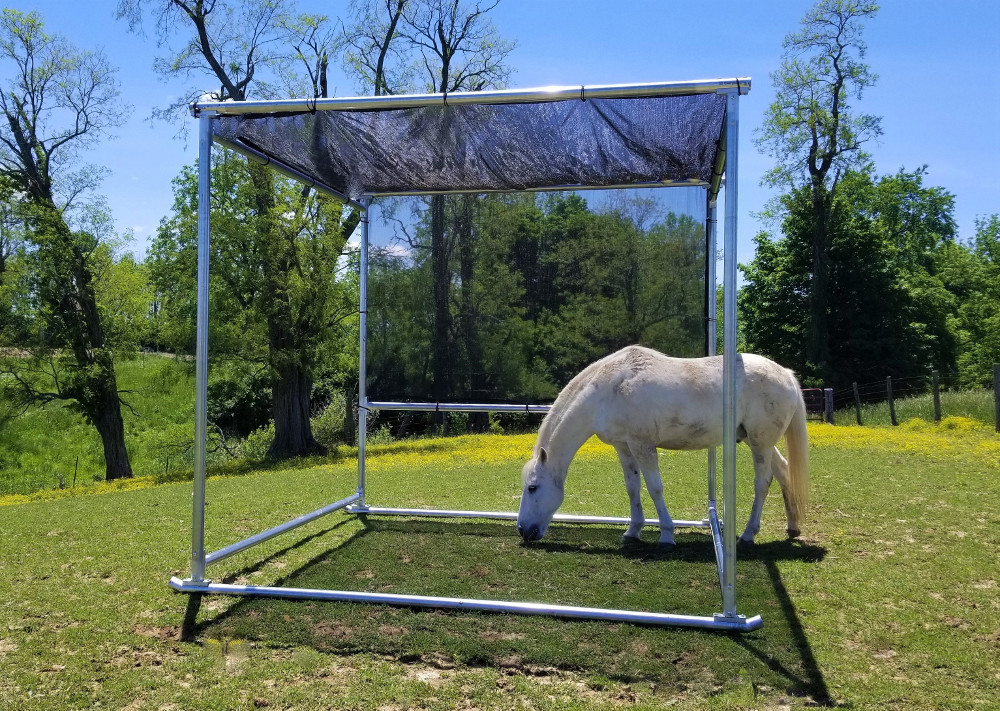 DIY Portable Cattle and Livestock Shade Frame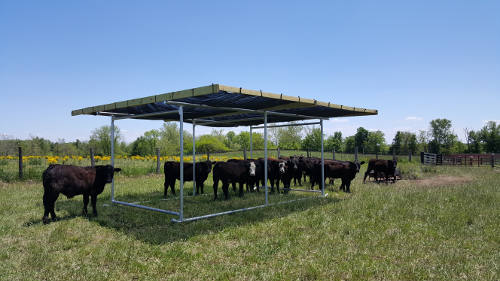 Our cattle and livestock shade frames are made with galvanized steel tubes and built to last.
8′ Horse, Cattle & Livestock Shade (10′ x 20′ Frame)
(does not include lumber or shade cloth)
Providing ample shade for your horses, cattle, and other livestock is incredibly important. Did you know that extreme temperatures can cause your animals added stress or even cause serious health problems? Protect your animals from the hot summer sun with Klene Pipe Structures' DIY portable livestock shade solutions.
Build your own portable livestock shade. Our DIY frame includes:
10 gauge 2 ½" galvanized steel tubes cut to size
Handy instruction guide
All you need to do is attach your 2" x 6" lumber to the steel tabs on the top, and add the shade cloth of your choice and you have a completely portable 20' x 20' shade.
Features
10' x 20' Frame – The frame is made from heavy duty 10 gauge 2 ½" galvanized steel tubes cut to size.
Available in Multiple Heights – Available in 7 foot, 8 foot, 9 foot or 10' heights to accommodate animals of all sizes.
Built on Skids – Our portable shade is built on two runners, for easily portability. The skid is the the only part that touches the ground making it easier to move around your pasture.
Sturdy Design – Made from heavy duty galvanized steel. Frames bolt together.
Benefits
Easily Portable – Strong enough that your portable shade can be moved from pasture to pasture whenever needed.
Great for Animals of All Shapes and Sizes – These frames are not just for horses and cattle. Goats, sheep, hogs, alpacas and many other types of animals can benefit from the comfort of shade during the hot summer months.
Fast Assembly – Assembly time for 2 people to erect the frame is about 1 hour.
Break Down For Winter Storage – Portable shade structures easily come apart for storage during the winter months, all you need for assembly is a 9/16" wrench.
Shipping is available to anywhere in the continental U.S.
Contact Us for Delivered Price