A "bully" horse was taking over this ring bale feeder – our H-8 Hay Saver Horse Hay Feeder took care of that problem!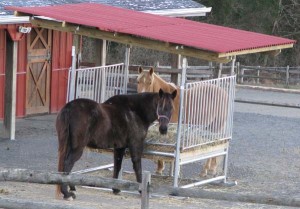 ---
"Ring Bale" VS. Klene Pipe Hay Saver Feeder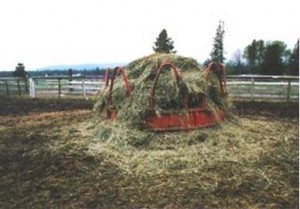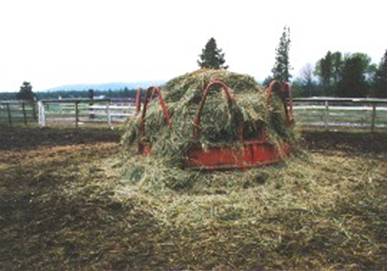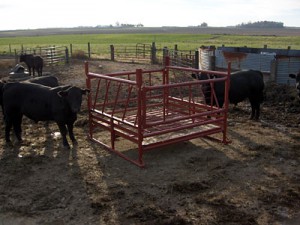 ---
Traditional Hay Feeder VS. Klene Pipe Hay Saver Feeder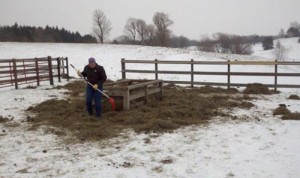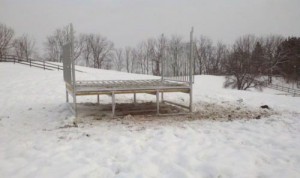 "Before, after, and loaded with two big square bales. 'nuff said! You shipped to me on a Monday afternoon and the truck was at the farm Tuesday morning. Assembly was 2 hrs. Needless to say we are very pleased with your product and service. Thanks"
If you are already using a "ring" hay bale feeder.
If you are paying $60.00 per 1,500 lb. bale.
If your bale is of decent quality.
If your "ring" hay bale feeder is only wasting 35%.
If you feed 100 bales per year, weighing 1,500 lbs. each.
Ring bale feeders average life span ????
Klene Pipe Feeders have an average life span of 15 years. +
These figures are based on our local veterinarian and will be subject to variables such as quality of hay, size of bale and correct use of feeder.
| Feeder | % of Hay Savings per 1500 lb. decent quality hay | $ Amount of Hay Savings per 1500 lb. decent quality hay | # of bales it will take to pay for the feeder in hay savings alone |
| --- | --- | --- | --- |
| | 93% Efficient | $16.80 per bale Savings OVER "ring" feeder. | $16.80 per bale x 100 bales per year = $1,680.00 Savings Per Year |
| | 93% Efficient | $16.80 per bale Savings OVER "ring" feeder. | $16.80 per bale x 100 bales per year = $1,680.00 Savings Per Year. |
| | 93% Efficient | $16.80 per bale Savings OVER "ring" feeder. | $16.80 per bale x 100 bales per year = $1,680.00 Savings Per Year |
| | 89% Efficient | $14.40 per bale Savings OVER "ring" feeder. | $14.40 per bale x 100 bales per year = $1,440.00 Savings Per Year |
| | 89% Efficient | $14.40 per bale Savings OVER "ring" feeder. | $14.40 per bale x 100 bales per year = $1,440.00 Savings Per Year |
| | 80% Efficient | $9.00 per bale Savings OVER "ring" feeder. | $9.00 per bale x 100 bales per year = $900.00 Savings Per Year |