Big Bale Horse Hay Feeder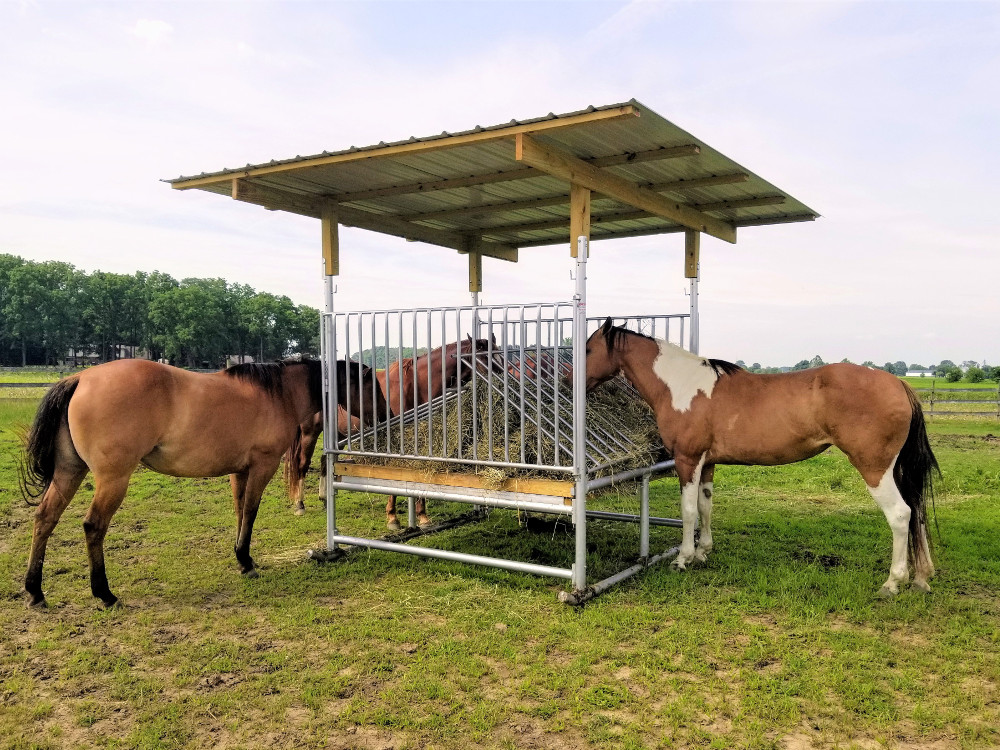 The H-8 "hay-saver" horse hay feeder is designed for Horses, but is also great for Donkey's, Llamas, Alpacas, and More
Patent # 7418924B2
Contact Us for Delivered Price
(roof not included)
Looking for something for your big square bales?
Check out our H-10 Horse Hay Feeders
Contact Us!
Call 812-614-4364 or email us for more information.
Note: We respond to all inquiries. Please check your spam folder for emails. Call 812-614-4364 with questions.

Details of the H-8 Hay Feeder:
The H-8 Big Bale Horse Hay Feeder was designed specifically for horses, but work well for a variety of other animals including donkey's, llamas, alpacas, and more! Think about it, most horse hay feeders were originally cattle feeders that have been modified to make them "sort of work" for horses. Years have gone into the research and development of these hay feeders that have been built from the ground up with only horses in mind. Our recent discovery shows this design also works well with similar sized animals. Whether you're using small squares, large squares or big round bales, we have the model that will fit your needs. These square and round bale feeders were designed with maximum hay savings and your animals' safety in mind.

Video of the H-8 Hay Saver Horse Feeder above. You'll see how the H-8 Hay Saver Horse Feeder works. Safe, durable and cost effective. Fits big round bales or big square bales.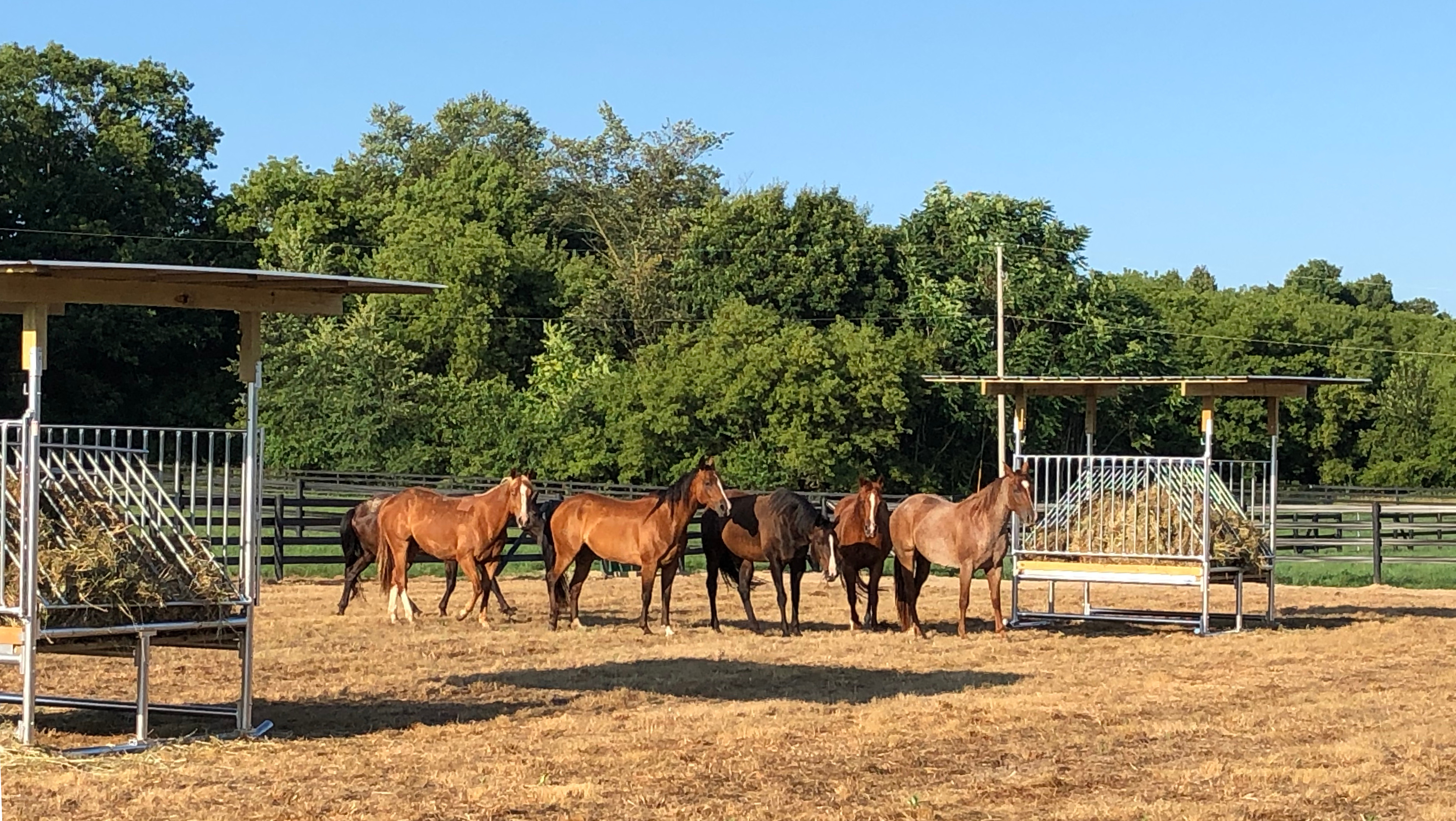 The patented fold down grills of this horse hay feeder are designed to make it impossible for your horse and animals to bury his head into the bale, thus eliminating breathing problems from inhaling hay dust. This feature also helps reduce eye irritation from being poked by hay stems.
The grill can be locked into the upright position to make it safe for the horse and animals when you are loading a new hay bale. This feature also allows you to discontinue feeding at any time and it makes this hay feeder a breeze to clean out.
Has brackets to attach a roof which will help keep your bale dry. This is also a great way to make a shelter or shade for your animals. This feeder also has a floor in it, which keeps your bale off of the ground and fresh.
This horse hay feeder is practically waste free. It's amazing how much hay this feeder really saves! Some assembly may be required and the floor lumber is included.
Available in 7′, 10′ and 12′ Lengths
Draft Horse Models Also Available
The 7′ horse hay feeder model can be used with a large round bale or several small square bales. The 10′ model can be used for a large square, 2 smaller round bales, or several small squares. The 12′ model can hold 2 large round bales, 1 big square bale, or several small square bales.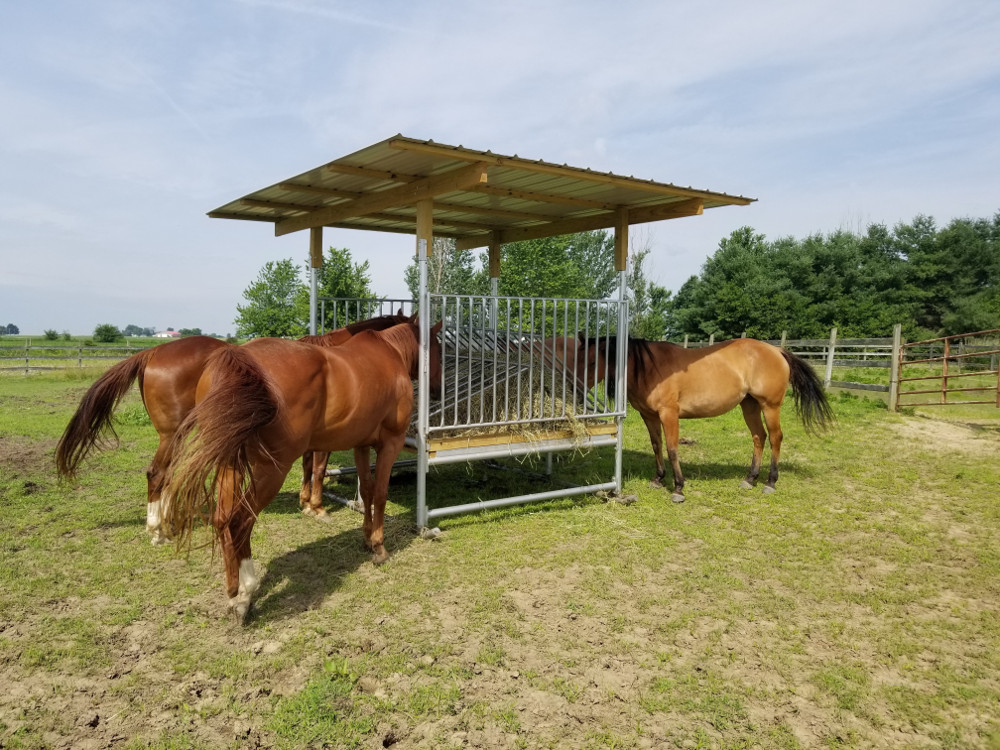 ---
What People are Saying About the H-8 Horse Hay Feeder…
"The Southern Utah University Equine Program purchased four Klene Pipe Big Bale Feeders, and have been using them for the past year to feed our horses. The feeders have simplified our feeding schedule and reduced the labor required to feed our horses each day. Once the horses get used to the feeders, they do a good job self-regulating feed intake, and we are very pleased that horses can eat anytime they want to. It has made it possible to run bigger groups together because the horses have access to feed all the time and animals lower in the pecking order can eat without being driven off. The feeders are well made, and hold up to the pressure that comes from feeding herds of large animals. We are very pleased with the performance of the feeders and the results we have seen. We plan to buy additional hay feeders as needed in the future. Thank you for making such a great product!"