Big Bale Hay Feeder for Cattle
With the price of your hay, you cannot afford to have your cattle wasting it. The Model C-7 Cattle Hay Feeder is a great INVESTMENT!
Contact Us for Delivered Price
(roof not included)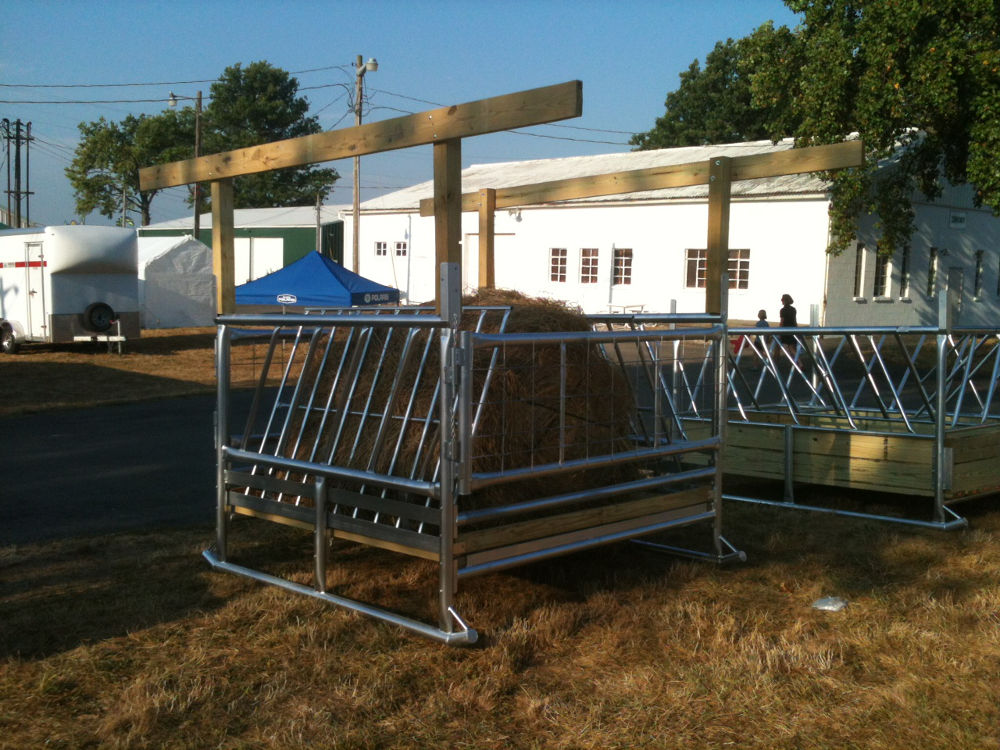 Contact Us!
Call 812-614-4364 or email us for more information.
Note: We respond to all inquiries. Please check your spam folder for emails. Call 812-614-4364 with questions.

Details of the C-7 Cattle Hay Feeder:
The C-7 cattle hay feeder has stanchion bars going around the outside of feeder with a panel bar welded into place on the ends of the feeder. This stops the cattle from pulling hay out of the center of the bale. The C-7 Hay Feeder has patented fold down grills with 6″ spacing that allows animals to only enough room to stick their muzzles in. Our design stops your livestock from burying their head deep inside the hay bale and pulling too much. What doesn't fit in their mouth falls back onto the floor of the feeder. You can also attach this feeder to the roof if desired, it has sturdy welded brackets to keep your hay feeder secure. Patent # 7418924B2
Some assembly may be required, floor lumber is included. Can be used with large round bale or small square bales.
Available In Multiple Size – 6′ model and 12′ model
Gates located on both ends for easy loading.
24″ Loading Height