Our portable livestock shades can be used to shade or tarp livestock, pets, firewood, plants, boats, cars, or even people. This steel pipe frame shade is made entirely from heavy wall 2 1/2" OD steel tubing and is bolted into a portable unit that you can drag to any location where shade is needed. These serve as great cattle shades, horse shades, or other livestock shades.
You can place up to 20' long 2×6"s across the top to turn a 10'x 20' frame into 20'x 20' shade.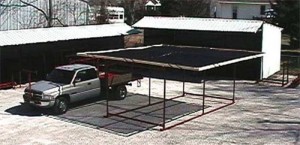 For pricing please contact Klene Pipe Structures today. We'll send you a free brochure, printed or digital.